You've got a lot going on and the last thing you want to be doing is spending an hour or more making dinner at night!  Quick Meal Mondays is all about quick and easy recipes that can be put together in 30 minutes or less, but they are still crowd pleasers!!  Some will be healthy, some will be decadent but all of them will be quick, easy and delicious!
If you want to submit a quick & delish recipe to share please email me at info@teaganandmack.com.  You will, of course, get credit on my blog for your meal!
This week's submission is one that I modified to make it even more interesting!  The original recipe was just a shrimp curry but by adding a few fresh veggies to the mix it made it even more delicious.  To keep this recipe under 30 minutes, buy the shrimp already peeled and deveined.  Taking off the skin and tails is a time killer!
Ingredients: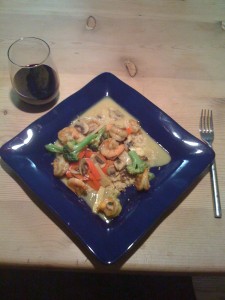 2 Tbsp. sugar
1-1/2 Tbsp. curry powder
1 tsp. salt
1/4 tsp. ground red pepper
1 lb. large shrimp, peeled, deveined
1 can (13.5 oz.) lite coconut milk
1-1/2 Tbsp. fresh lime juice
broccoli
red peppers
mushrooms
bamboo shoots
MIX sugar, curry powder, salt and ground red pepper in large resealable plastic bag. Add shrimp; seal bag. Shake bag gently to completely coat shrimp with the seasoning mixture. Refrigerate until ready to use.
Chop vegetable into bite size pieces. Heat oil in a large skillet. Saute vegetables for five minutes or until about half cooked, then add shrimp; cook 2 or 3 minutes or just until shrimp begins to curl and turn pink. Add coconut milk and lime juice; stir. Bring to boil. Reduce heat to medium-low; simmer 5 minutes or until thickened, stirring occasionally. Spoon over rice or couscous.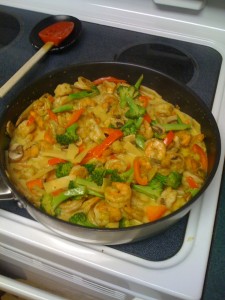 TIP:  Couscous takes 5 minutes to cook, rice takes 30 to 40!  I always make sure I have a pack of couscous in the cupboard!
Let me know if you made it and what you thought in the comments.
Have a 30 min or under tasty recipe you want to share?  Email me at info@teaganandmack.com!