You've got a lot going on and the last thing you want to be doing is spending an hour or more making dinner at night!  Quick Meal Mondays is all about quick and easy recipes that can be put together in 30 minutes or less, but they are still crowd pleasers!!  Some will be healthy, some will be decadent but all of them will be quick, easy and delicious!
If you want to submit a quick & delish recipe to share please email me at info@teaganandmack.com.  You will, of course, get credit on my blog for your meal!
This week's submission is a super easy crock pot meal by Lily Winnail of Padalily!
Salsa Chicken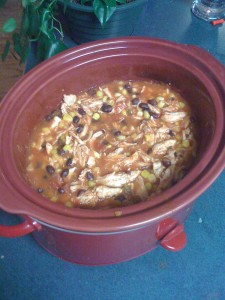 The Salsa Chicken is served over rice or in a tortilla and topped with sour cream, fresh cilantro, fresh tomatoes, avocado, whatever you choose!
Ingredients
4 

boneless skinless chicken breasts

32 ounces salsa (or 2- 16 oz. jars)

1 (14 1/2 ounce) can corn, drained

1 (14 1/2 ounce) can black beans, drained

flour tortilla

sour cream

guacamole

lettuce

tomato

cheese

salsa
Directions:
Prep Time:
5 mins
Total Time: 1/2 day (crock pot cooking time)
Place first four ingredients in crock pot.
Cook on low 6-8 hours.
30-60 minutes prior to serving, remove chicken, shred and return to crock pot.
To serve, use chicken mixture as filling inside tortillas or serve over rice.
Add desired condiments.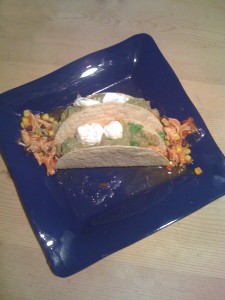 …and you're finished!!  Enjoy!  Let me know if you made it and what you thought in the comments.
Have a 30 min or under tasty recipe you want to share?  Email me at info@teaganandmack.com!