You've got a lot going on and the last thing you want to be doing is spending an hour or more making dinner at night!  Quick Meal Mondays is all about quick and easy recipes that can be put together in 30 minutes or less, but they are still crowd pleasers!!  Some will be healthy, some will be decadent but all of them will be quick, easy and delicious!
If you want to submit a quick & delish recipe to share please email me at info@teaganandmack.com.  You will, of course, get credit on my blog for your meal!
This week's recipe is another crockpot meal (woohoo!) by Jessica Seinfeld.  Many of you Oprah watchers may have seen this on tv over the last couple of weeks.  This recipe is so simple and delicious!!  The only thing that I would change is that I would add one extra can of crushed tomatoes since I felt like my tomato layers were too thin, but other than that it was wonderful and really easy.
Servings: Serves 6
Ingredients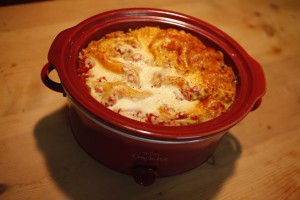 3 cans (14.4 ounces) crushed tomatoes
3 cloves garlic , finely chopped
2 Tbsp. dried oregano
1/2 tsp. kosher salt
1/4 tsp. red pepper flakes
1/4 tsp. freshly ground black pepper
2 containers (15 ounces each) fresh ricotta
2 cups (8 ounces) grated mozzarella
1/4 cup grated Parmesan
12 lasagna noodles (about three-quarters of a 1-pound box)
5 ounces (about 6 cups) baby spinach
In a medium bowl, combine the tomatoes, garlic, oregano, salt, red pepper and black pepper. In a separate bowl, mix the ricotta, 1 cup of the mozzarella and Parmesan.
In the bottom of a 5- to 6-quart slow cooker, spread a thin layer of the sauce. Top with 3 of the noodles (breaking to fit as necessary). Spread about 1 cup of the sauce over the noodles and layer with 2 cups of the spinach and 1 1/2 cups of the cheese mixture. Repeat twice more with the noodles, sauce, spinach and cheese mixture. Top with the remaining 3 noodles, sauce and 1 cup mozzarella.
Cook on low, covered, until the noodles are tender—especially in the center of the lasagna—about 3 to 3 1/2 hours.
Enjoy and let me know if you made it and what you thought in the comments below!

Have a 30 min or under tasty recipe you want to share?  Email me at info@teaganandmack.com!