For today's Green Tip Tuesdays I thought I would talk a little about Valentine's Day!  Wine and chocolate have become synonymous with this day so why not go a little greener on Valentine's Day and buy your sweetheart organic wine and organic chocolate!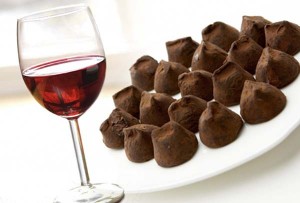 Did you know that organic wine and chocolate (especially dark chocolate) have higher levels of antioxidants and resveratrol?  According the The Mayo Clinic, these two things have been found to reduce bad cholesterol, help protect the lining of blood vessels in the heart and are thought to have cancer fighting and anti aging properties!
Both have few to no pesticides in them and are far kinder to the earth in their production.  See my video on Why Organic to learn more about that.  Organic wine also contains fewer sulfates.
That all sounds good to me!  So enjoy your Valentine's Day and be a little greener all at the same time!